Access Management in CloudCheckr CMx
The Access Management menu is where can configure the options related to Role Based Access Control (RBAC).
RBAC is a method for managing user access to software features and functionality based on the roles assigned to those users. With RBAC, CloudCheckr customers assign users, permission sets, accounts, and clients to a role. The intersection of those objects determines who has access to what in the CloudCheckr application.
To access these features, go to the header bar, click the Settings icon and select Access Management: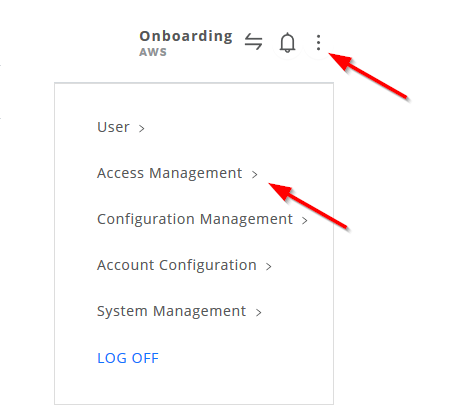 Review this table to learn more about the Access Management features.
| Feature | Description |
| --- | --- |
| Users | Click to access the Users tab where you can create and modify users. |
| Roles | Click to access the Roles tab where you can create and modify roles as well as assign users, permission sets, accounts, and clients to a role. |
| API Management | Click to access the Clients tab where you can create and modify clients as well as create access keys. |
| Permission Sets | Click to access the Permission Sets tab where you can view, search for, modify, or create a permission set. |
| Audit History | Click to view a complete history of the resources, event types, and user actions in your CloudCheckr environment. |
---
---