Service Categories in CloudCheckr CMx
As you configure the Cost dashboards in CloudCheckr CMx, you will notice a new filter option, Service Category, which is a container for related services: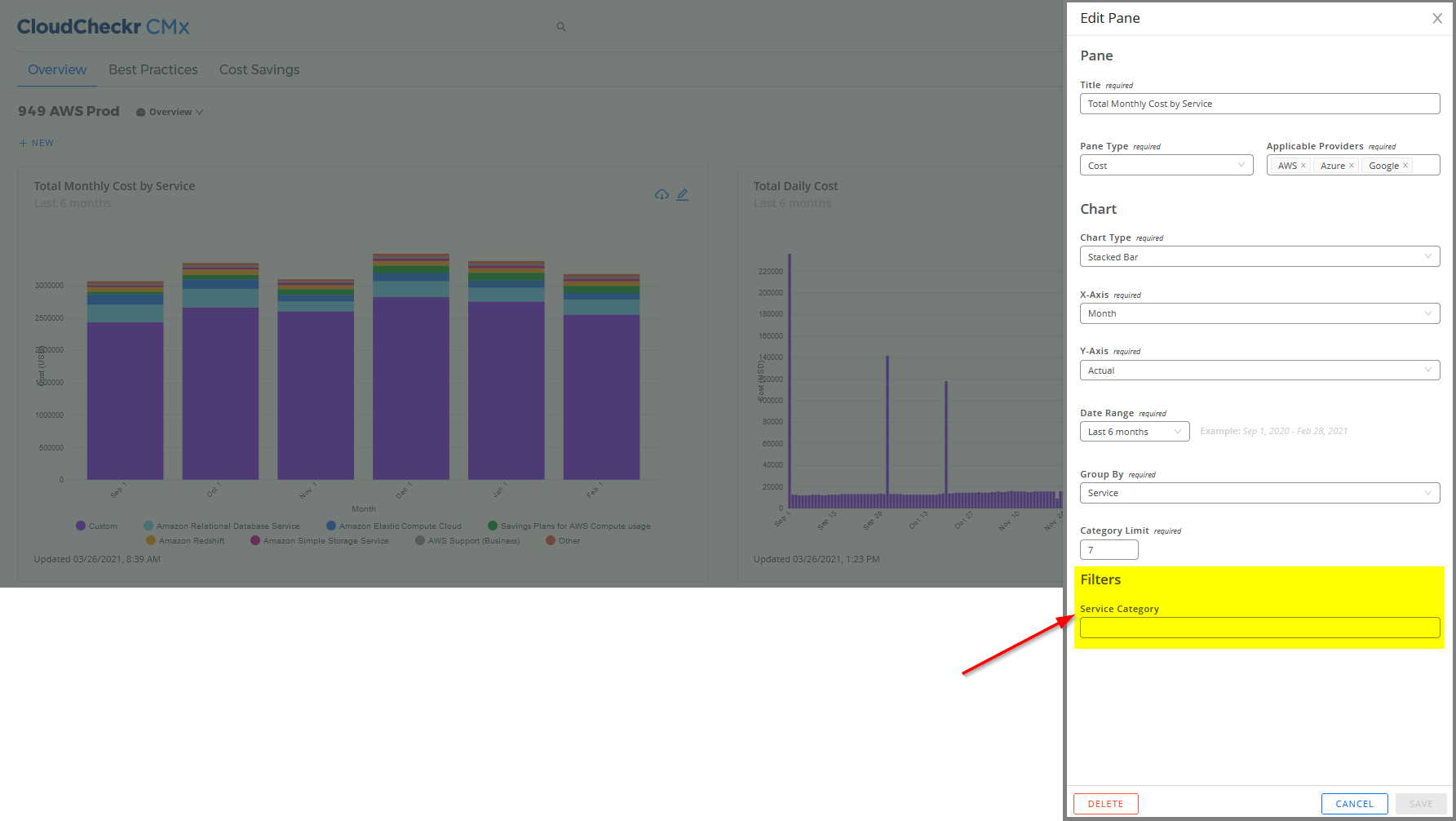 For example, CloudCheckr CMx groups AWS services such as Amazon EC2, AWS Elastic Beanstalk, AWS Lambda, and several others in the Compute service category.
Service categories will allow CloudCheckr CMx to report on multiple cloud providers in one report and in the future, enable you to configure what services you want in a service category.
When you select a service category, CloudCheckr CMx will not filter your results based on your selection. Instead, you will see a list of all available services. For example, if you select Compute, you will see all available services rather than a list of Compute services.
---
Service Categories by Cloud Provider
Although the concept of service category in CloudCheckr CMx is similar to how various cloud providers group their services, the relationship between services and service categories in CloudCheckr CMx is unique.
Here is a list of each service category used in CloudCheckr CMx. Click each service category to see the current service to service category mappings broken down by cloud provider:
Service
Amazon Comprehend
Amazon Comprehend Medical
Amazon Kendra
Amazon Lex
Amazon Machine Learning
Amazon Personalize
Amazon Polly
Amazon Rekognition
Amazon SageMaker
Amazon Sumerian
Amazon Textract
Amazon Transcribe
Amazon Translate
Apache MXNet on AWS
AWS Deep Learning AMIs (DLAMI)
AWS DeepLens
AWS IoT Button
TensorFlow on AWS
Service
Microsoft.MachineLearningServices
Service
AI Hub (beta)
Cloud AutoML (beta)
Cloud Inference API (alpha)
Cloud Machine Learning Engine
Cloud Natural Language
Cloud Speech-to-Text
Cloud Text-to-Speech
Cloud TPU
Cloud Translation
Cloud Video Intelligence
Cloud Vision
Diagflow Enterprise Edition
Service
Amazon API Gateway
AWS AppSync
Service
Microsoft.ApiManagement
Service
API Analytics
Apigee API Platform
Apigee Sense
API Monetization
Cloud Endpoints
Cloud Healthcare API
Developer Portal
Service
Alexa for Business
Alexa Web Information Service
Amazon Chime
Amazon Chime Business Calling (a service sold by AMCS, LLC)
Amazon Chime Call Me
Amazon Chime Dialin
Amazon Chime Voice Connector (a service sold by AMCS, LLC)
Amazon Connect
Amazon Lex Chatbots
Amazon Managed Blockchain
Amazon MQ
Amazon Pinpoint
Amazon Simple Email Service (SES)
Amazon Simple Notification Service (SNS)
Amazon Simple Queue Service (SQS)
Amazon WorkDocs
Amazon WorkMail
Amazon WorkSpaces
Amazon WorkSpaces Application Manager
Contact Center Telecommunications (a service sold by AMCS, LLC)
Contact Lens for Amazon Connect
Service
Microsoft.ServiceBus
Service
Cloud Pub/Sub
Dialogflow
Firebase Cloud Messaging
Service
Amazon Elastic Compute Cloud (Amazon EC2)
Amazon EC2 Auto Scaling
Amazon EC2 Container Registry (Amazon ECR)
Amazon Elastic Container Service (Amazon ECS)
Amazon Elastic Kubernetes Service (Amazon EKS)
Amazon Lightsail
AWS Batch
AWS Elastic Beanstalk
AWS Fargate
AWS Lambda
AWS Serverless Application Repository
Savings Plans for AWS Compute Usage
VMware Cloud on AWS
Service
Microsoft.ClassicCompute
Microsoft.Compute
VirtualMachines
Service
App Engine
Cloud Functions
Compute Engine
Container Security
GPU
Service
Amazon Athena
Amazon CloudSearch
Amazon Elastic MapReduce (EMR)
Amazon Elasticsearch Service
Amazon Kinesis Data Analytics
Amazon Kinesis Data Firehose
Amazon Kinesis Data Streams
Amazon Kinesis Video Streams
Amazon Managed Streaming for Apache Kafka (MSK)
Amazon QuickSight
Amazon Redshift
Amazon Simple Workflow Service (Amazon SWF)
AWS Data Pipeline
AWS Glue
AWS Lake Formation
Service
Microsoft.AnalysisServices
Microsoft.Databricks
Microsoft.DataFactory
Microsoft.DataLakeAnalytics
Microsoft.EventHub
Microsoft.Insights
Microsoft.OperationalInsights
Microsoft.PowerBIDedicated
Microsoft.Search
Microsoft.StreamAnalytics
Microsoft.Synapse
Service
BigQuery
Cloud Composer
Cloud Dataflow
Cloud Data Fusion
Cloud Dataprep
Cloud Dataproc
Cloud Life Sciences (beta)
Data Catalog
Google Data Studio
Google Marketing Platform
Amazon Aurora
Amazon DynamoDB
Amazon DocumentDB (with MongoDB compatibility)
Amazon ElastiCache
Amazon Neptune
Amazon Quantum Ledger Database (QLDB)
Amazon RDS on VMware
Amazon Relational Database Service (Amazon RDS)
Amazon SimpleDB
Amazon Timestream
Service
Microsoft.Cache
Microsoft.DBforPostgreSQL
Microsoft.Sql
Service
Cloud Bigtable
Cloud Datastore
Cloud Firestore
Cloud Memorystore
Cloud Spanner
Cloud SQL
Firebase Realtime Database
Service
Amazon Corretto
AWS Amplify
AWS Cloud9
AWS CodeArtifact
AWS CodeBuild
AWS CodeCommit
AWS CodeDeploy
AWS CodePipeline
AWS CodeStar
AWS X-Ray
Service
Microsoft.AppCenter
Microsoft.AppConfiguration
Microsoft.ContainerRegistry
Service
Cloud Build
Cloud Code
Cloud Code for IntelliJ
Cloud Scheduler
Cloud SDK
Cloud Source Repositories
Cloud Tasks
Cloud Tools for PowerShell
Cloud Tools for Visual Studio
Container Registry
Firebase Crashlytics
Firebase Test Lab
Gradle App Engine Plugin
Maven App Engine Plugin
Tekton
Service
Amazon AppFlow
Amazon AppStream
Amazon Augmented AI
Amazon Cognito
Amazon Cognito Sync
AWS Outposts
Service
Microsoft Azure Active Directory (Microsoft.AAD)
Service
Anthos Config Management
Google Kubernets Engine (GKE)
GKE on-prem
Istio on GKE (beta)
Serverless
Service
AWS IoT (Internet of Things)
AWS IoT 1-Click
AWS IoT Analytics
AWS IoT Core
AWS IoT Device Defender
AWS IoT Device Management
AWS IoT Events
AWS IoT Greengrass
AWS IoT SiteWise
AWS IoT Things Graph
FreeRTOS (real-time operating system)
Service
Cloud IoT Core
Edge TPU (beta)
Service
Amazon CloudWatch Events
Amazon Honeycode
AWS Auto Scaling
AWS Budgets
AWS CloudFormation
AWS CloudTrail
AWS Config
AWS Console Mobile Application
AWS Control Tower
AWS Cost Explorer
AWS License Manager
AWS Managed Services
AWS OpsWorks
AWS Personal Health Dashboard
AWS Service Catalog
AWS Step Functions
AWS Systems Manager
AWS Trusted Advisor
AWS Well-Architected Tool
Service
Microsoft.Automation
Service
Anthos Service Mesh (beta)
Cloud APIs
Cloud Console
Cloud Deployment Manager
Cloud Mobile App
Cloud Shell
Cost Management
Debugger
Error Reporting
Incident Response and Management (alpha)
Logging
Monitoring
Private Catalog (beta)
Profiler
Service Monitoring (alpha)
Stackdriver
Stackdriver Logging
Trace
Transparent Service Level Indicators
Service
Amazon Elastic Transcoder
Amazon Interactive Video Service
AWS Elemental Appliances & Software
AWS Elemental MediaConnect
AWS Elemental MediaConvert
AWS Elemental MediaLive
AWS Elemental MediaPackage
AWS Elemental MediaStore
AWS Elemental MediaTailor
AWS Kinesis Video Streams
Service
Anvato
Zync Render
Service
AWS Application Discovery Service
AWS Database Migration Service
AWS DataSync
AWS Import/Export Snowball
AWS Migration Hub
AWS Server Migration Service
AWS Snow Family
AWS Transfer Family
AWS Transfer for SFTP
CloudEndure Migration
Service
Microsoft.RecoveryServices
Service
BigQuery Data Transfer Service
Cloud Data Transfer
Transfer Appliance
Velostrata
VM Migration
Service
Amazon CloudFront
Amazon Registrar
Amazon Route 53
Amazon Virtual Private Cloud
Application Load Balancer
AWS App Mesh
AWS Cloud Map
AWS Direct Connect
AWS Global Accelerator
AWS PrivateLink
AWS Transit Gateway
Elastic Load Balancing
Network Load Balancer
Service
Microsoft.Cdn
Microsoft.Network
Microsoft.Relay
Service
Cloud Armor
Cloud CDN
Cloud DNS
Cloud Load Balancing
Cloud NAT
Cloud VPN
Hybrid Connectivity
Network Intelligences Center
Network Services Tiers
Network Telemetry
Traffic Director
Virtual Private Cloud (VPC)
Service
AWS Support (Business)
AWS Support (Developer)
AWS Support (Premium)
Service
Amazon Cloud Directory
Amazon Detective
Amazon GuardDuty
Amazon Inspector
Amazon Macie
AWS Artifact
AWS Certificate Manager
AWS CloudHSM
AWS Directory Service
AWS Firewall Manager
AWS Identity and Access Management
AWS Key Management Service
AWS Organizations
AWS Secrets Manager
AWS Security Hub
AWS Shield
AWS Single Sign-On
AWS WAF
Barracuda CloudGen Firewall for AWS - PAYG
Barracuda Cloud Security Guardian for AWS
Service
Microsoft.KeyVault
Service
Access Transparency
Backstory
Binary Authorization
Cloud Asset Inventory
Cloud Audit Logs
Cloud Data Loss Prevention
Cloud HSM
Cloud IAM
Cloud Identity
Cloud Identity-Aware Proxy
Cloud Key Management Service (KMS)
Cloud Security Command Center
Cloud Security Scanner
Context-Aware Access
Event Thread Detection (beta)
Identity Platform
Incident Response and Management (beta)
Managed Service for Microsoft AD (beta)
Phishing Protection
Policy Intelligence
reCAPTCHA enterprise
Resource Manager
Security key enforcement
Shielded VMs
Tital Security Key
VPC Service Controls
Web Risk API
Service
Amazon Elastic Block Store (EBS)
Amazon Elastic File System (EFS)
Amazon FSx
Amazon FSx for Lustre
Amazon FSx for Windows File Server
Amazon Glacier
Amazon Simple Storage Service (S3)
AWS Backup
AWS Snowball
AWS Snowball Edge
AWS Snowmobile
AWS Storage Gateway
Snowflake
Service
Microsoft.ClassicStorage
Microsoft.DataLakeStore
Microsoft.Storage
Service
Archive
Cloud Filestore
Cloud Storage
Cloud Storage for Firebase
Coldline
Data Transfer Service
Nearline
Persistent Disk
Standard
Service
Service
APN Annual Program Fee
AWS Data Transfer
Security for Amazon Web Services
---
---