Cost Savings
The Cost Savings report provides a summary of possible AWS savings. CloudCheckr uses information from our Best Practices Cost Checks to demonstrate the possible savings for your account. 
---
Category Summaries

This portion of the report displays a concise total of expected savings available to your account. Alongside this total is a breakdown based on sub-totals from six areas reviewed by CloudCheckr. 
---
Breakdown Summary by Category Type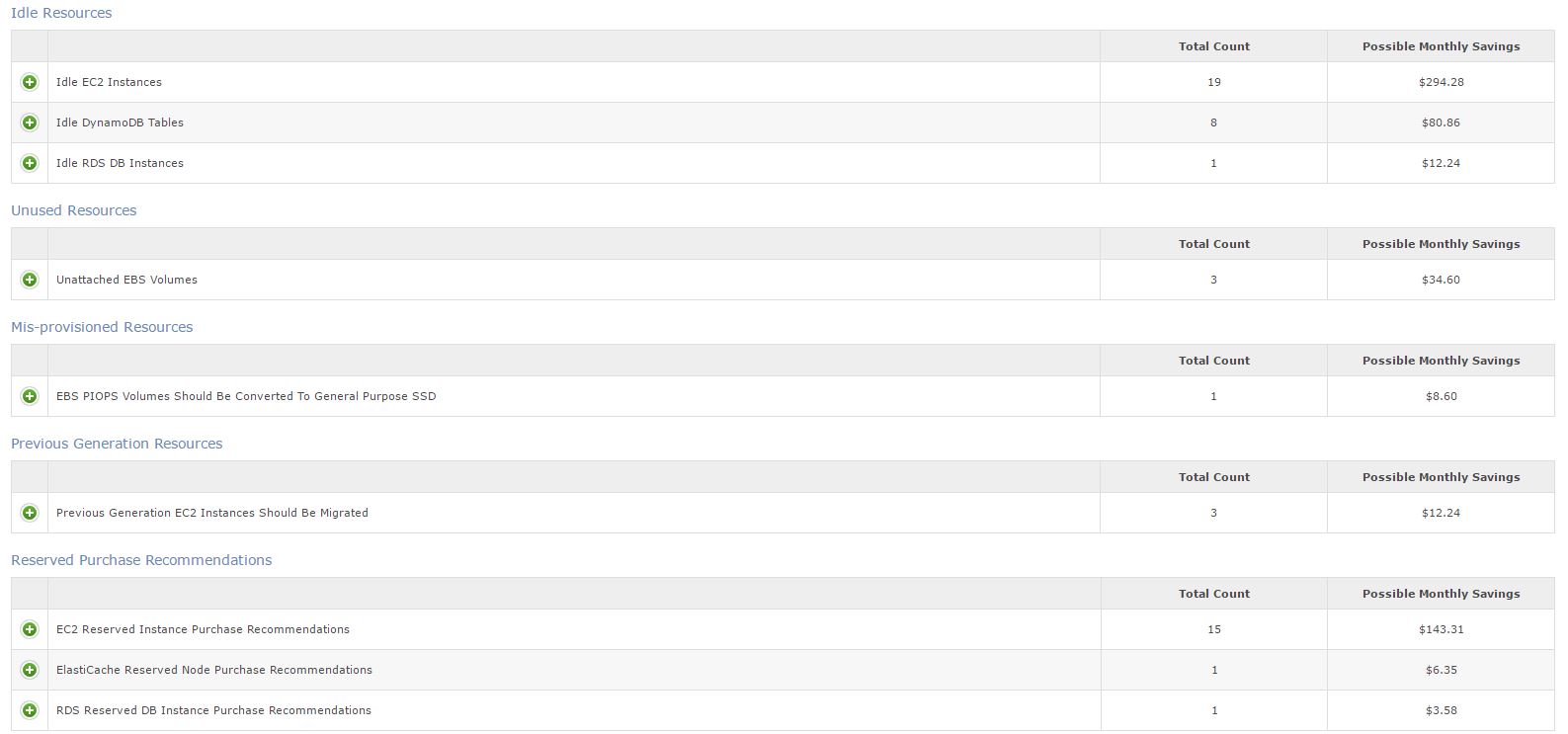 The lower portion of the report provides more detail about the Resources subtotals. 
---
Idle Resources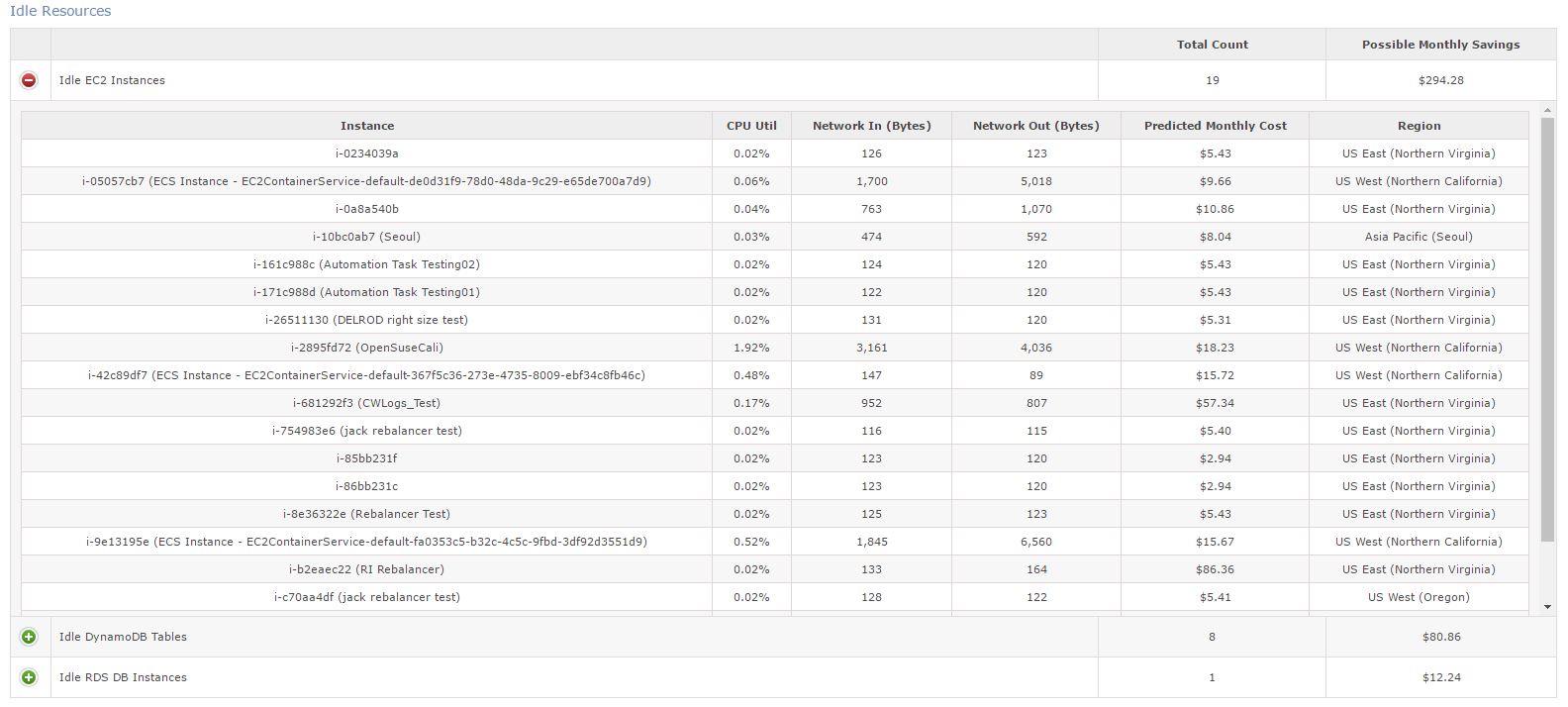 Expanding any of the Idle resource items will provide additional details about name, usage, cost, and region. 
---
Unused, Mis-Provisioned, or Previous Generation Resources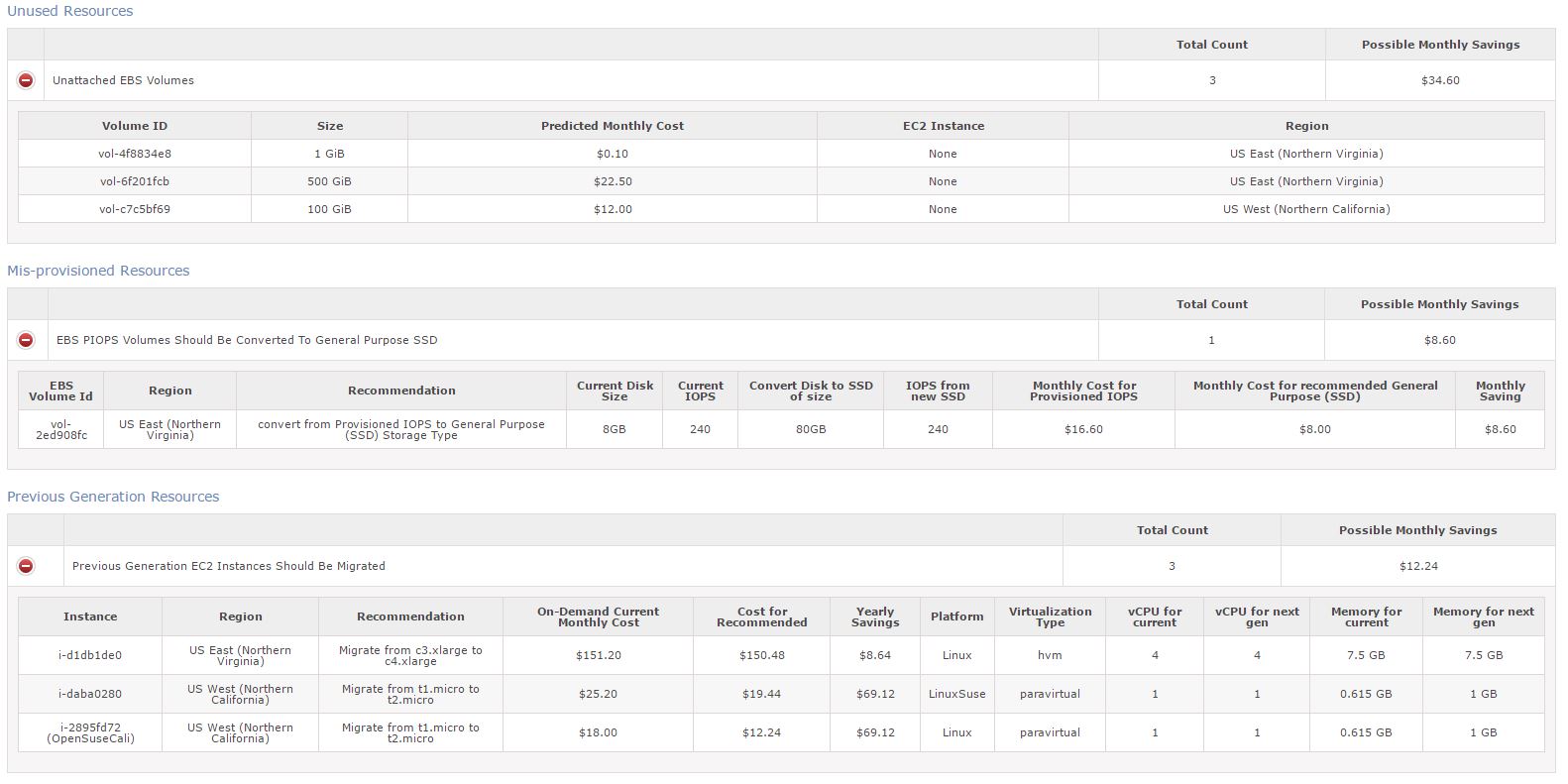 Likewise, expanding the Unused, Mis-Provisioned, or Previous Generation resource items will provide expanded views of IDs, Costs, Usage, Configurations, etc. 
---
Reserved Purchase Recommendations

Finally, Reserved Purchase Recommendations details changes that can be made to Reserved Instances for additional savings.
---
---
Which Best Practice Checks Inform Each Category?
Each of the six main sections of Cost Savings is updated on a daily basis based on the aggregated results from your Cost Best Practice Checks. Each of the sections is populated with data from the following Best Practice Checks:
Idle Resources: Idle EC2 InstancesIdle ElastiCache NodesIdle Elastic Load BalancersIdle RDS DB InstancesIdle DynamoDB TablesIdle Redshift Nodes
Unused Resources: Unattached EBS VolumesUnused Elastic IP AddressesUnused Elastic Load BalancersUnused DynamoDB TablesUnused WorkSpace(s)
Mis-provisioned Resources:   RDS PIOPS Volumes Should Be Converted To General Purpose SSDEBS PIOPS Volumes Should Be Converted To General Purpose SSD
Previous Generation Resources: Previous Generation EC2 Instances Should Be MigratedPrevious Generation RDS DB Instances Should Be MigratedPrevious Generation ElastiCache Nodes Should Be Migrated
Reserved Purchase Recommendations: EC2 Reserved Instance Purchase RecommendationsRDS Reserved DB Instance Purchase RecommendationsElastiCache Reserved Node Purchase RecommendationsRedshift Reserved Nodes Purchase Recommendations
Other: Excessive Costs Incurred For A Glacier RestoreConvert to RDS SQL Server Web Edition
---
---