Bookmarks
With Bookmarks you can create quick links to your favorite reports and access them directly from your list of accounts.
Any time you see this icon in the application, you can bookmark the page or report:

This icon can be found in the upper right hand corner of most pages in the application. If you click the icon, a dialog box will open, which contains the link to the selected report or page. You can also use this link to share the report with another user who also has access to this account.
To save the report, click Save Bookmark and provide a name for your bookmark.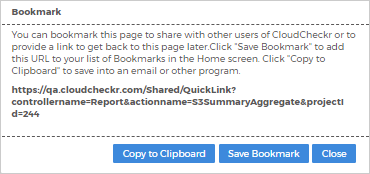 To see your list of saved bookmarks, select the account that contains the bookmark you want to access and click Bookmarks.
---
---