Creating AWS Credentials Using IAM Access Keys
Although CloudCheckr recommends that you use a cross-account role for greater security, your business may require you to create credentials using Amazon Web Services (AWS) Identity and Access Management (IAM) access keys. IAM access keys are less secure than cross-account roles because you must create and manage multiple users and access keys, which require periodic rotation and are at risk of being shared or stolen. This topic shows you how to create AWS credentials using IAM access keys by following these procedures in this order:
create a policy or policies
create a user group
create an IAM user
---
Create a Policy or Policies
Go to the
Create a Policy or Policies
topic.
---
Create A User Group
CloudCheckr recommends that all IAM users belong to groups, so you can apply group permissions that will get filtered down to the users in the group automatically.
Step 1:
Log into the
AWS Management Console
.
Step 2:
From the AWS Services screen, select 
Security, Identity & Compliance
> 
IAM
.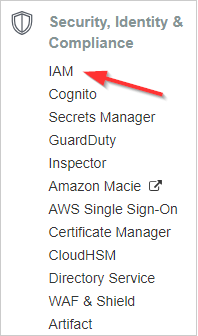 Step 3:
From the dashboard, click
Groups
.
Step 4:
Click the
Create New Group
button.
Step 5:
Type a group name. We recommend naming the group
CloudCheckr
for easy identification. Click 
Next Step
.
Step 6:
Attach your policy or policies and click
Create Group
.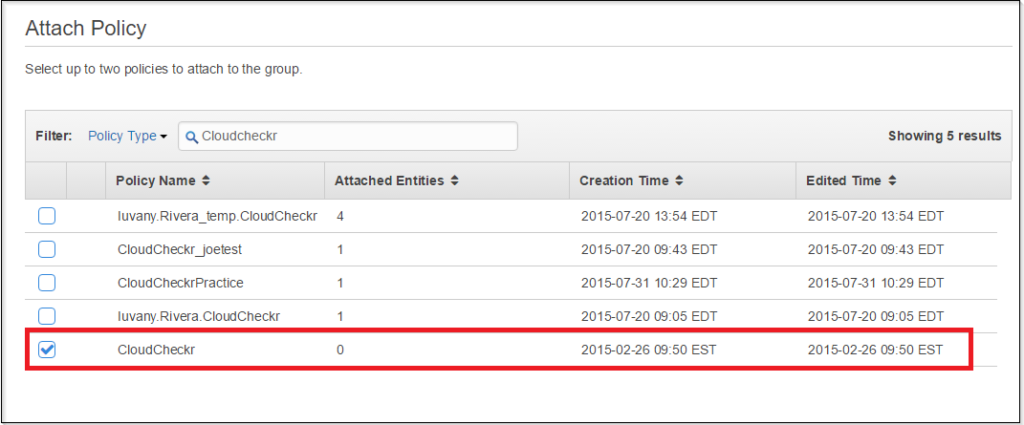 ---
Create An IAM User
Now you need to create an IAM user and generate an access key and secret key that will enable you to connect CloudCheckr to your AWS account.
Step 1:
From the dashboard, click the
Users
.
Step 2:
Click the
Add user
 button.
Step 3:
On the Add user screen:
Type the username. We recommend CloudCheckr for easy identification.
Select the Programmatic access check box to generate an access key and secret key ID.
Click Next: Permissions.
Step 4:
Click
Add user to group
and select the
CloudCheckr
group.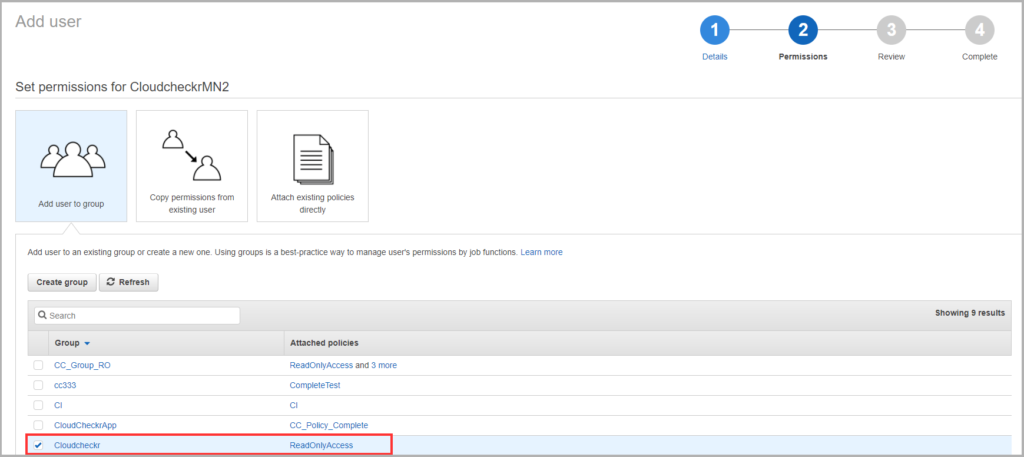 Step 5:
Click 
Next: Review
.
Step 6:
Review your choices and click 
Create user
.

Step 7:
Click
Download .csv
 to save the security credentials as a .CSV export and click
Close
.

Step 8:
Return to CloudCheckr and copy the access key and secret access key into the corresponding fields.
Step 9:
Select the checkbox if this is an account from India managed by
Amazon Internet Services Pvt. Ltd (AISPL)
.
Step 10:
Click
Update
. The new IAM user is now properly assigned to your CloudCheckr group.
---
---