Payee Support Charge
The Payee Support Charge will allow you to automatically charge each payee a support charge which is a percent of the bill, based on the list price they are charged. This is based on monthly charges for AWS Support plans based on each month's AWS usage charges. To see more go to the AWS Support Pricing page.
---
Enabling Payee Support Charge
To enable Payee Support Charge in CloudCheckr, you must login with an account that has access to your Master Payer account.
Navigate to Cost > AWS Partner Tools > Payee Support Charge.
CloudCheckr displays a list of your payee accounts.
Select the box next to the account you would like to enable the Payee Support Charge.
Select the Update Payee Support Charge button.
---
View Payee Support Charges
Now that you have enabled the Payee Support Charge, you will need to wait for the specific months billing data to be closed by Amazon. If you are currently in the middle of a month, the charges will not display.
Waiting until the end of the month is the only way to allow CloudCheckr to obtain the full accurate cost for the customer accounts.
The Payee Support Charges will lso show up if a closed month has been reprocessed.
Once the end of the month billing data has been closed out, to display the charges use List Cost whenever CloudCheckr propmts you for a cost type filter.
Example 1 – Single Day Summary:
Since you must wait for Amazon to have closed the month, select the last day of the month and list cost when you run the Single Day Summary.
For example, if the closed month is July, you will need to select July 31 and list cost to allow CloudCheckr to display the Support Business charges. If you select any other day within the month, 1 through 30, CloudCheckr will not display the Support Business charges—even if you selected list cost.
Select date to end of month: 7/31/2019.
Select the AWS Account ID associated with the account where you want to review the payee support charge.
Select List as the cost type.
Example 2 – Invoice Generator:
When generating an invoice for your payee account, you will need to select list as the coost type for the charge to display on the invoice.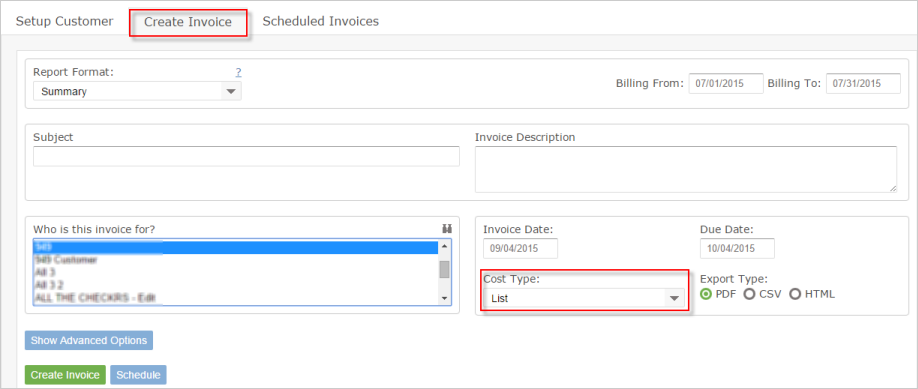 Example 3 – Generating Reports/Saving Filters
Within Advance Filtering and Advanced Grouping, CloudCheckr allows you to generate detailed reports where you can filter by cost type. Make sure you select as your cost type if you would like Support Business charges to display and any time you save or update your filters.
Cost > AWS Billing > Advanced Filtering:

Cost > AWS Billing > Advanced Grouping:

---
---