Services Page in CloudCheckr FinanceManager
The Services page allows you to view and change the available services in the service catalog of the CloudCheckr FinanceManager deployment. When creating new services, you are required to use a Transformer service or a services statement.
To view the details of a service you created, click one of the services listed on the Overview page: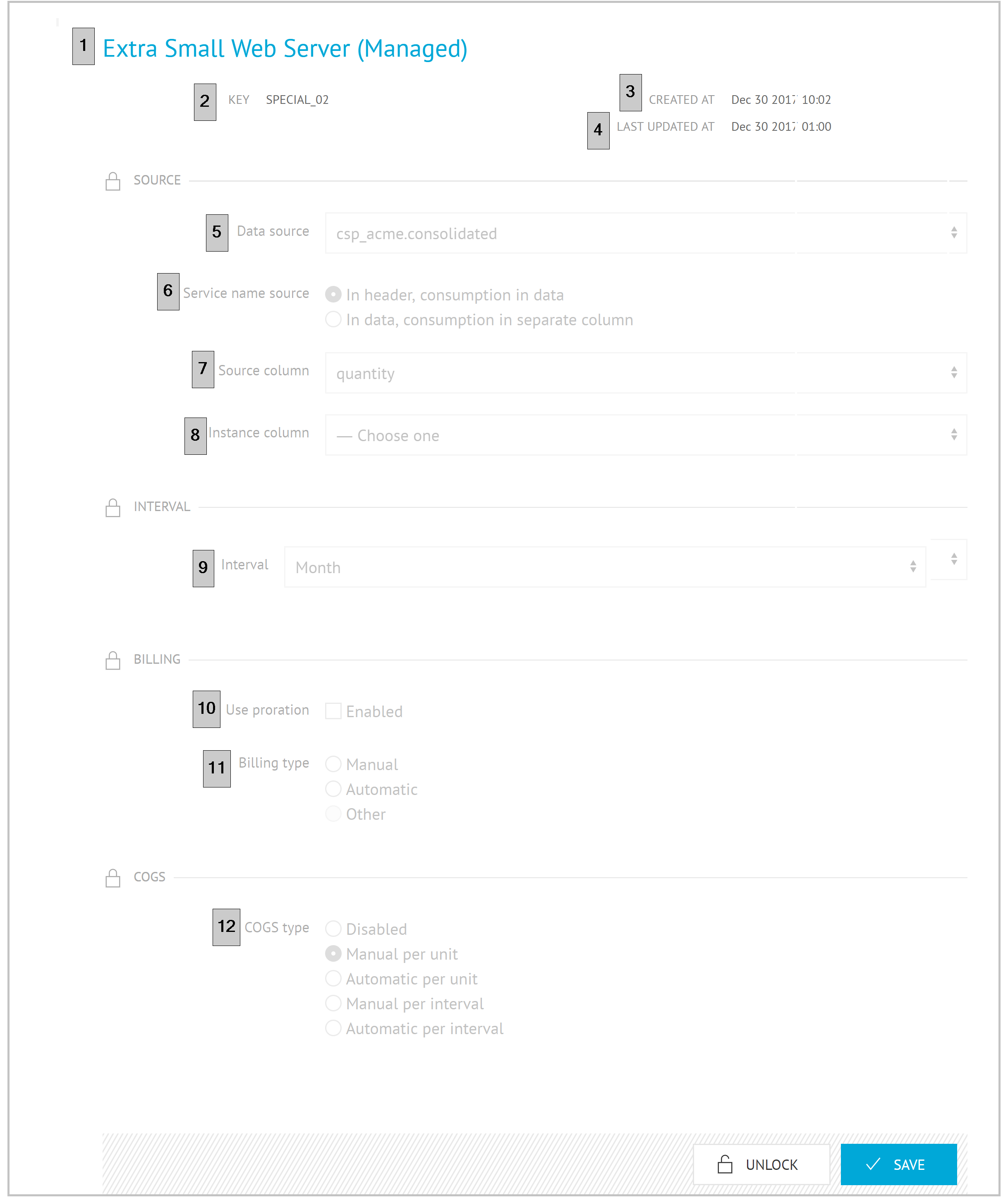 The table defines the numbered UI elements from the screenshot:
Item

Definition

Description
The friendly name for the service
Key
The unique key value of this service
Created At
The time stamp when the service was created
Last Updated At
The time stamp when the service was updated
Data Source
The dataset associated with this service
Service Name Source
Where you will get the service name from (in header or in data)

You will use this value for the service description

Source Column
Contains the consumed quantity
Instancy Column
Refers to the chargeable instance column value that is required for automatic services
Interval
The frequency at which this service is being charged: automatic (every occurrence/record/hour), daily, or monthly
Use proration
Select this option if you want to charge for a portion of a consumption interval
Billing Type
Provides information on whether this is a service that has a manual adjustable rate value or automatic configured rates
COGS type
Cost of Goods (COGS) of a service has its own rate configuration that you can configure as manual or automatic per unit or manual or automatic per interval
---
Changing or Deleting a Service
Select the appropriate report from the Report Selector.

Choose Services > Overview and click the Edit button at the top of service list. The system will warn you that any changes made to existing service may require you to re-Prepare the currently selected report, under Data pipelines > Reports.
After you have confirmed the warning message, select one, multiple, or all of the services in the selected Report.
Click the Delete button next to the Edit button, to delete all selected services.
To change the configuration of an existing service, you can change any of the available parameters.
Click the Update button.
Make sure that you re-Prepare your Report after you make changes.
---
---