Configure Your CloudCheckr Account
This topic will show you how to configure your CloudCheckr account.
You must connect your CloudCheckr account to your AWS account using one of the following methods:
a cross-account role
an IAM access key
A cross-account role is the most secure way to provide access to your AWS accounts.
IAM access keys are less secure because you must create and manage multiple IAM users and the associated access keys, which require periodic rotation and are at risk of being shared or stolen.
---
Procedure
After you create your account, the Configure Account page opens.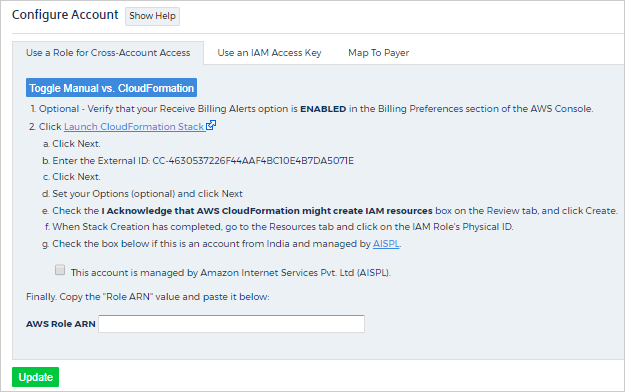 On the Use a Role for Cross-Account Access tab, follow the instructions to add the credentials. For more information, review the topic, Grant Access to CloudCheckr Using a Cross-Account Role.
Click Update to allow the application to begin taking a snapshot of your AWS account and building your reports.
---
---